​​​​​​​​​​​​​​​​​​​​​​​​​​​​​​​​​​​​​​​​​​​​​​​​​​​​​​​​​The Central Michigan University Alumni Association Board of Directors represents the interests of all CMU alumni by providing meaningful opportunities and connections for maintaining involvement with and commitment to Central Michigan University.​
The Alumni Association Board of Directors fills board vacancies by appointment. Interest forms are accepted on a rolling basis. To be eligible for membership, alumni must have a degree from Central Michigan University and must also be or become a Gold Member of the Alumni Association. Members serve a three-year term and may be eligible to serve up to three additional, consecutive terms. The number of vacant seats each year varies based on returning board members and expiring terms.
Meet the CMU Alumni Association Board of Directors
Scott Nadeau '89
President
Dexter, MI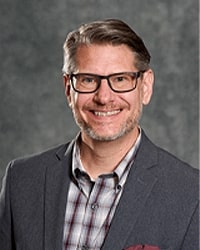 City, State:
Dexter, Michigan
Major(s):
Broadcast and Cinematic Arts, Interpersonal and Public Communication
Graduation year(s):
1989
Professional Title:
Owner/Videographer/Editor, Video & Internet Stuff, LLC
Favorite Spot on Campus:
Warriner Mall

Please list any CMU Alumni affiliate groups, chapters, etc. that you are or have been involved with.
Beta Theta Pi, RHA, Hall Councils, WCHP, WMHW, Moore Hall TV, Resident Assistant
Please share any personal or professional organizations you are involved in.
WCHP, WMHW, Moore Hall TV, Resident Assistant
What advice would you give to current or prospective CMU students?
Show up to class, sit in the front row, get to know your professors, learn how to glean information quickly from your books, and join an RSO or two. Learn both inside and outside of the classroom, and have fun!