Meet the Sexual Aggression Dedicated Counselor
Focused on providing mental health services to students impacted by sexual assault, domestic violence, intimate partner violence, stalking and/or harassment, counseling is provided to both primary and secondary survivors. In addition, this position is focused on support, education, and empowerment. The Sexual Aggression Dedicated Counselor is also focused on increasing awareness through outreach efforts and educational programming to the campus community.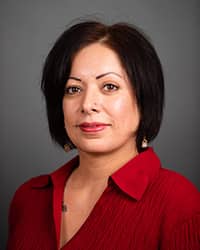 Aileen Guerra-Morales, MA, LPC
Sexual Aggression Dedicated Counselor
Assistant Director for Sexual Aggression Services
My goal is to create a safe and welcoming environment for students. I strive to help students working through trauma, heal and feel empowered in their own lives. Counseling is a working alliance and together we will move towards the goals identified by the student. I believe the therapeutic relationship plays a huge role in recovery, and I work hard on fostering an environment of trust, care, and respect. I will use a variety of strategies to explore how trauma impacts the mind and body and together we will find the tools and techniques that will foster your healing journey.
How to schedule an appointment
Call the Counseling Center at 989-774-3381, or click the button below to request an appointment. The Counseling Center is open Monday through Friday from 8:00 a.m. to 12:00 p.m. and 1:00 p.m. to 5:00 p.m.
If your concerns require immediate attention, same or next-day urgent appointments are available at the Counseling Center. Please call the Counseling Center at 989-774-3381 if you need an urgent appointment.