Affiliation Agreements
Field placements
Field experiences
Off-campus practica
Clinical placements

Student teaching assignments
Internships
In general, if a CMU student will fulfill any part of a degree or non-degree program at non-CMU locations, an affiliation agreement is required prior to the experience.
Within Licensure, Regulatory Services & Human Capital, the Affiliation Agreements Coordinator is responsible for assisting program coordinators with the preparation, or revision and/or review and execution of these agreements. They will ensure proper Affiliation Agreement procedures and guidelines are followed.
It is imperative that all agreements follow university policy and support students in fulfilling their academic program requirements at non-CMU locations. Each affiliation agreement will be handled in support of university standards for the relevant program. The Affiliation Agreements Coordinator will provide alternate language when necessary, obtain appropriate approvals, finalize the agreement for appropriate signatures, and seek execution and distribution.
The Affiliation Agreements Coordinator will maintain the Agreements System with executed/active and expired Agreements. The Agreements System is searchable by College, Subject, or Major and you may sign in with your CMU Global ID to view the PDF copy of fully executed Agreements.
A detailed help guide may also be found at Agreement System Help.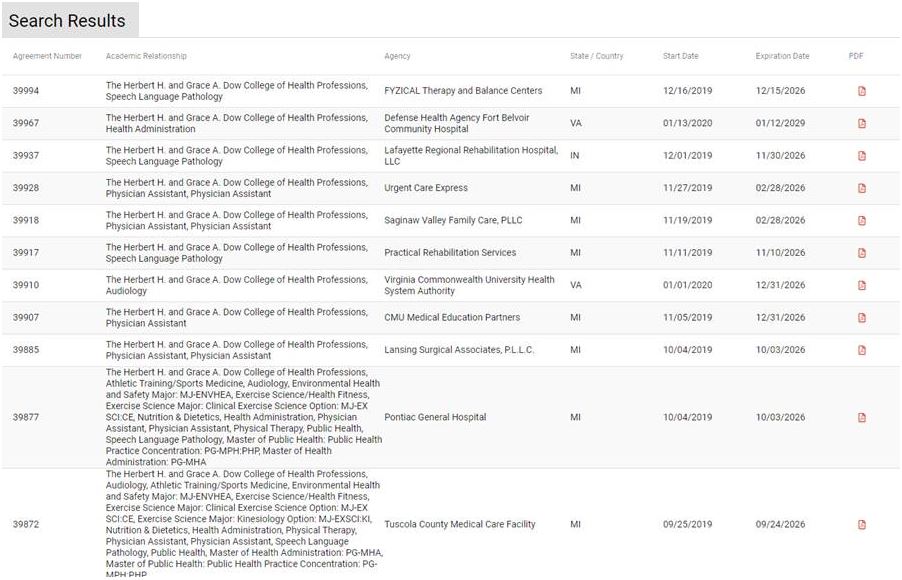 For specific requirements for individual Agreements/Student Placements (i.e. student health insurance, vaccinations, criminal background checks, etc.), please contact your program director.
For more information and questions regarding the Affiliation Agreement process, please contact the Affiliation Agreements Coordinator at agreements@cmich.edu or via phone (989) 774-7211.