Learning With Confidence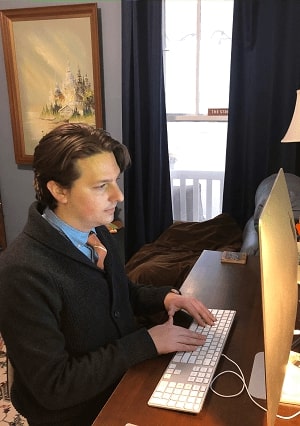 CMU psychology doctoral student Alexander Rigney transformed a class paper from his first year of graduate school into a published article in the Journal of Behavioral Education. His research on computer-assisted learning links innovative reading approaches to student achievement in school; reading is a critical skill for students to master. Without these foundational reading skills, young children will be faced with difficulty in other subjects: math, science, social science, etc. Alexander led a review of Headsprout, a computer-based reading program designed to teach young children important reading skills, such as phonics and fluency.
From the children's perspective, Headsprout is a game with interesting characters like dinosaurs and aliens. The children are asked to help characters do certain tasks that require reading, matching, and speaking. Correct responses help the characters achieve certain goals and motivate the student. Alexander's paper is a review of the analyses of the effectiveness of Headsprout in a school setting. He says, "although Headsprout claims to address all five of the key areas of reading identified by the National Reading Panel—phonemic awareness, phonics, fluency, vocabulary, and comprehension—only one nearly decade-old review of the evidence had been conducted at the time.".
Alexander felt it was important to examine the current state of Headsprout and assist educators in choosing evidence-based interventions for reading. He emphasizes the importance of giving educators and researchers an updated evaluation of Headsprout and its effectiveness in schools. However, Alexander did not find enough evidence to support the claim that Headsprout is effective in teaching children the five key areas of reading. Although Headsprout was rigorously developed, more research is needed before it can be recommended to educators as an effective reading tool.
At CMU We Do Research, We Do Real World
Story by ORGS intern Hailey Nelson
January 2021