Program Overview
To thrive in the fashion world, you need more than a keen sense of style. You also need to translate your vision to a product that sells. This program blends the theory of fashion and the knowledge of business practice to create a skillset that prepares you to be a successful fashion business professional. Learn more about the online program.
Program Snapshot
Location:
On-Campus, Online
Why This Program & What You'll Learn
Our fashion merchandising and design program is your doorway to a $1.2 trillion industry. When you graduate, you'll have a portfolio of work you can show to employers—as well as skills that will keep you in demand.
Our program, recognized as the best in Michigan, uses industry technology to provide you with real-world skills. We know the fashion industry is going digital, so as a fashion merchandising and design major, you'll get hands-on experience working with CAD, 3-D printers, pattern digitization, and 3D virtual design merchandising software. You can test fabrics in the textile testing lab. In the Center for Merchandising and Design Technology test your product prototypes using a body scanner and thermal manikins. Additionally, you will have the opportunity to interact with our corporate partners such as Carhartt, Target, and Adidas to help solve real-world problems.
Our courses will give you a foundation in both design and merchandising, resulting in a graduate that is prepared for a variety of careers available in the industry. Can't decide? We offer minors in design and visual merchandising. We know you are busy and have many things going on, that's why we offer courses on-campus, online, and hybrid. In addition to gaining hands-on experience on campus, you'll get on-the-job training as part of your required internship experience. In recent years, students have interned at places such as A&F, Louis Vuitton, Target, and Bloomingdale's.
Those experiences pay off. Employers know our students' technical expertise is matched by problem-solving and leadership skills to set them apart.
Program Highlights
Our fashion merchandising and design program offers you the opportunity to:
Go straight to the source: Paris. Take a one-month summer course in the City of Light to learn haute couture techniques, assess boutiques and study French culture.
Participate in Threads, a student-run fashion show that ties the whole fashion experience together—design, production, marketing, staging, and more.
Build your network by joining student groups such as the Fashion Association of Merchandising and Design, and the American Association of Textile Chemists and Colorists.
We have expanded our opportunities to fit the lifestyle of those seeking a degree in fashion, and your need for flexibility in course offerings to including online, hybrid, and on-campus.
Concentrations
Filter Concentrations by Location:
Fashion Design
Great designs don't stop at the sketchbook or sewing machine. Today's fashion requires high-tech ability. This concentration will prepare you for a career as a fashion designer, CAD designer, stylist, fashion trend coordinator, or color analyst, to name several.
Fashion Merchandising
It's one thing to have a flair for fashion. But can you sell it? In the fashion merchandising concentration, you'll learn how to combine your sense of style with the ability to gauge what the public wants. Grads in this program go on to careers in buying, store management, visual merchandising, product development, styling, and more.
Product Development
Bring fashion designs to life with the latest technologies including 3D modeling and printing. This online concentration prepares you to create and sell fashion lines for a dynamic career in product development.
Visual Merchandising
Influence consumer purchase decisions with the skillful use of art and science to create compelling presentations and displays. You'll learn how to work with state-of-the-art visual merchandising technology in this online concentration, to merchandise retail spaces using branding and advertising techniques.
Careers & Outcomes
Whether you design clothing, manufacture it, or engage in marketing and retailing, a degree in fashion merchandising and design will prepare you for a wide range of careers.
| Career | Projected Salary |
| --- | --- |
| CAD Designer/Drafter | $60,290 |
| Fashion Designer | $77,450 |
| Senior Buyer | $75,410 |
| Product Development Engineer | $78,627 |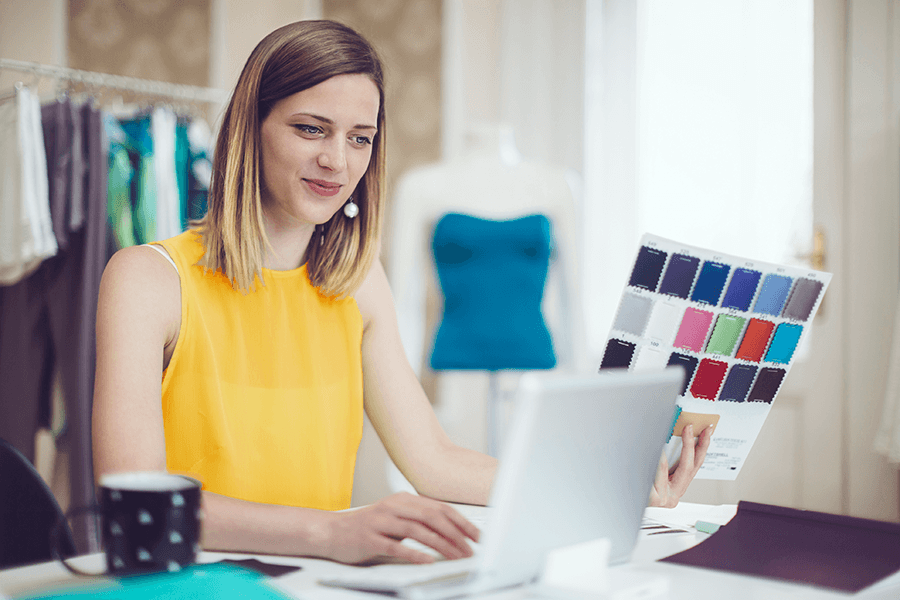 The science behind diapers
Students and faculty in Central Michigan University's Center for Merchandising and Design Technology have been on diaper duty for the past few months. Enter Lumi, CMU's infant-sized thermal manikin.