Program Overview
The Master of Health Administration degree from Central Michigan University readies you for senior health care leadership. Gain the expertise and business acumen to respond to the dynamic nature of today's industry and become a leader. With training in critical thinking and strategic operations, you'll help ensure an enduring and effective future for the evolving field of health care.
Why This Program & What You'll Learn
As a talented health care professional, this program will further develop your leadership skills and business ingenuity to guide the future of the evolving and complex industry. Health care occupations are on track to grow 32 percent by 2030* — you'll be equipped to stand out as a leader grounded in management principles, innovation and strategic thinking.
You'll study best practice models and methods for effectively planning for the delivery of health care services and their marketing. You'll hear from experts in the field on the best approaches for health care leadership, decision-making and accountability. Our faculty will guide you through the study and application of health care-specific courses such as law, compliance, risk management, finance, human resource management, strategic planning and managerial epidemiology.
Our semester-long internship will help you practice and elevate your skills in the field. Looking to transition from the direct-care side to the managerial side? Our project-based field experience or applied research project will help you make that transition by demonstrating your leadership effectiveness and knowledge of patient care.
This MHA program is offered by the distinguished Herbert H. & Grace A. Dow College of Health Professions in a flexible online format.
Please note: The program is a Candidate for accreditation by the Commission on Accreditation of Healthcare Management Education (CAHME). The curriculum is designed to meet the standards of this accrediting body and CAHME accreditation is anticipated in early 2023.

*The Bureau of Labor Statistics projects medical and health services management job opportunities to grow 32 percent from 2020 to 2030, much faster than the average for other management occupations (9%) and all occupations (8%), https://www.bls.gov/ooh/management/medical-and-health-services-managers.htm#tab-6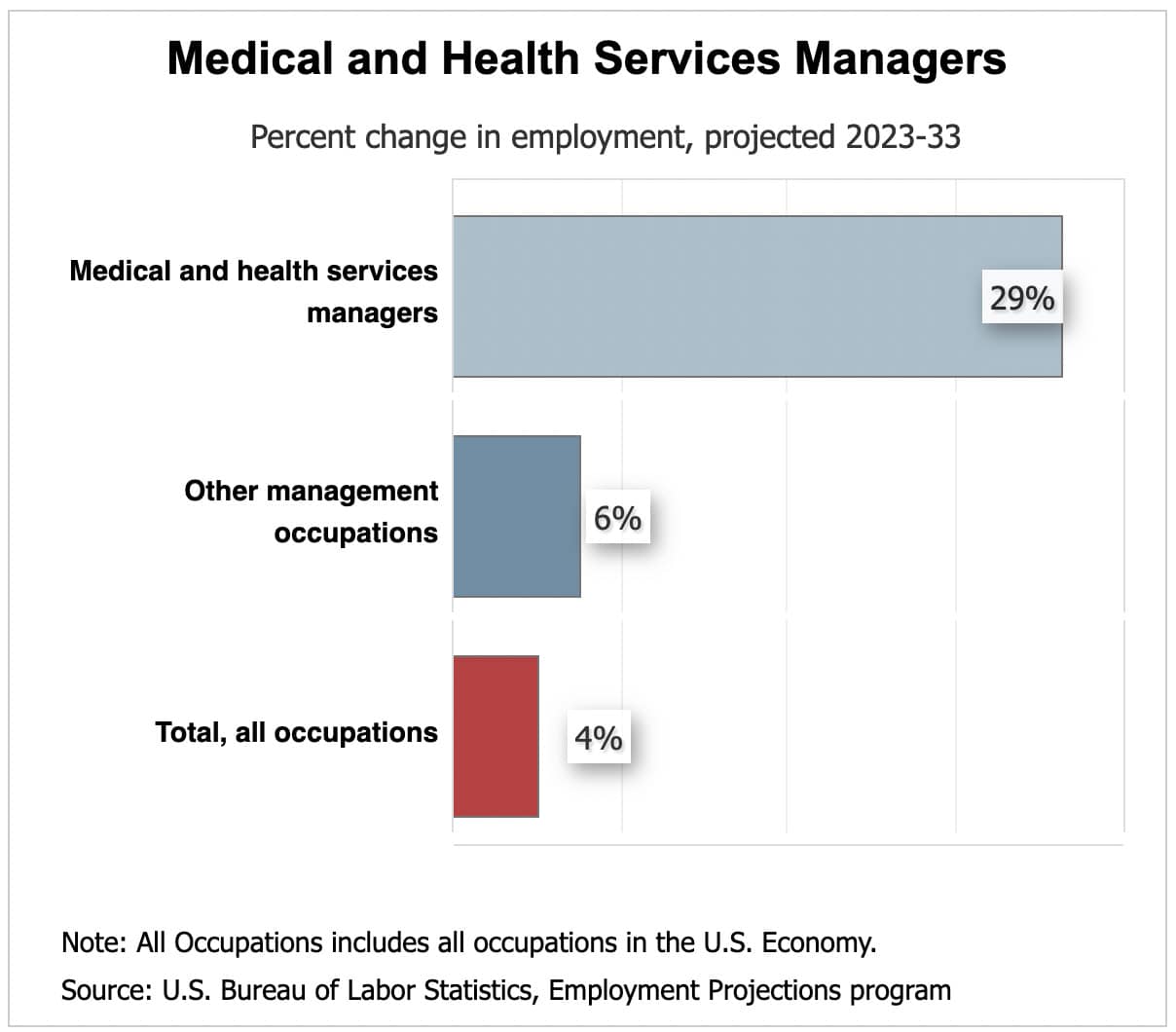 Program Highlights
Be prepared for entry-, mid- and senior-level health care positions, depending on your prior experience.
Gain the required skills in strategic and critical thinking to thrive in this profession as you manage and lead a health care organization.
Have the broad-based and comprehensive knowledge that sets you up for success in an array of health care administration positions.
Take program courses online, so you learn on your own schedule and at your convenience.
The average retention rate for CMU's MHA program is 95% over the last three years.
More than 90% of CMU's MHA students graduate within the planned program duration.
80% of graduates from CMU's MHA program are currently employed in the healthcare field.
Careers & Outcomes
Possible careers with this master's degree include hospital administrator, long-term care director, group practice manager, senior department manager, and community and public health managers.
| Career | Projected Salary |
| --- | --- |
| Nursing Home/Home Health Administrator | $29,430 |
| Healthcare Administrator | $101,340 |
| Health Care Analyst | $74,643 |
| Supply Chain Director | $103,269 |