Program Overview
Did you know that more than 30 million Americans have a hearing problem? People who have hearing difficulties often don't even know there's an issue. You can become an audiology professional helping deaf and hard of hearing individuals navigate their options and improve their quality of life. We offer a Doctor of Audiology (AuD) degree that focuses on preparing students to become successful audiologists.
Why This Program & What You'll Learn
If you're fascinated by the science of hearing and want to make a difference in people's lives, consider this top-ranked program at CMU. Audiology plays an essential role in the quality of life for the deaf and hard of hearing. That's especially true for children and teenagers who seldom complain about the symptoms of hearing loss, while adults may lose their hearing so gradually they don't realize it is happening. Audiologists are the allied health professionals who provide the diagnosis and treatment of hearing and balance disorders across the lifespan.
As the longest-standing program in the nation, Central Michigan University's doctorate in audiology will prepare you to become a successful audiologist. The program features a four-year curriculum consisting of classroom and extensive clinical experiences.
The doctor of audiology (Au.D.) education program in audiology (residential) at Central Michigan University is accredited by the Council on Academic Accreditation in Audiology and Speech-Language Pathology of the
American Speech-Language-Hearing Association
, 2200 Research Boulevard, #310, Rockville, MD 20850, 800-498-2071 or 301-296-5700.
Program Highlights
CMU has the longest-running AuD program in the country with a history of excellence. With the Doctor of Audiology graduate program, you'll have the opportunity to:
Work hands-on with faculty and researchers in class and in state-of-the-art clinics.
Conduct research projects and work with patient populations ranging from infants to the elderly.
Provide clinical services to people throughout central and northern Michigan through the Carls Center for Clinical Care and Education.
Experience a year-long externship where you will have the opportunity to work directly with one of our clinical partners.
Careers & Outcomes
With this degree, you will become an audiologist. You can work in educational settings, medical and health facilities, and private practice.
| Career | Projected Salary |
| --- | --- |
| Audiologist | $78,950 |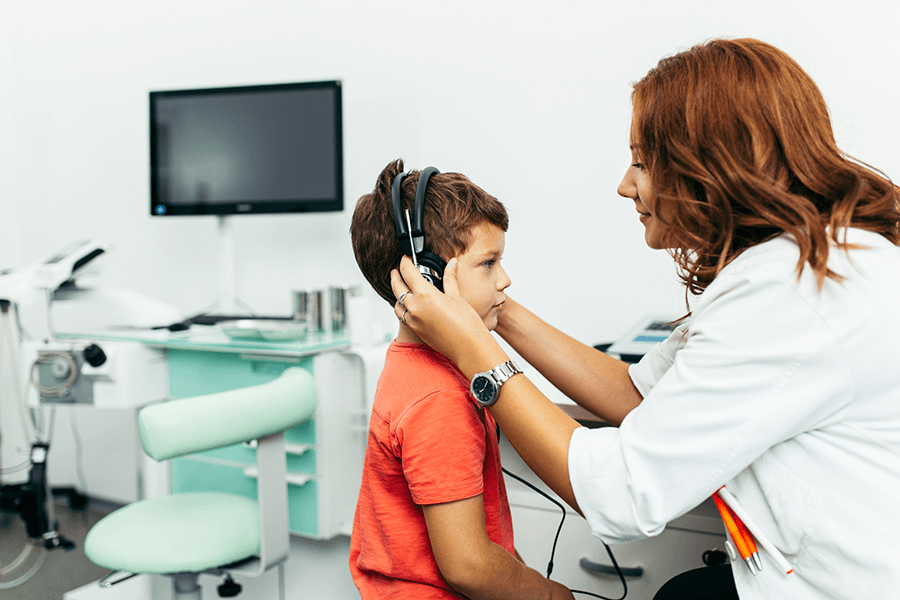 CMU Audiology Clinic
Explore the Central Michigan University Audiology Clinic. The clinic offers diagnostic and rehabilitative audiology services for persons from infancy through adulthood.
Watch the Audiology Clinic Guided Tour
Watch a CMU AuD graduate take you through the Audiology Clinic. Discover the advanced technologies, software and other innovations that make the CMU program unmatched in providing hands-on training and experience.