Program Overview
The human brain is exceedingly complex. Advanced neuroscience research helps us better understand it, allowing us to develop treatments for diseases and live healthier lives. Develop deep expertise with a holistic approach that includes studies in chemistry, biology, and psychology. Gain a comprehensive understanding of the fundamentals of neuroscience combined with intensive research training.
Why This Program & What You'll Learn
Our master's degree program provides the skills and hands-on experience you'll need to stand out as you apply for neuroscience-related jobs in both the public and private sectors.
From day one, your faculty mentors will provide a comprehensive understanding fo the fundamentals of neuroscience combined with intensive research training. You'll have access to state-of-the-art research facilities and ample opportunities for discussions with other students and faculty.
This program will prepare you for the next step in your journey, whether that's a doctoral program or a career in the biomedical or neuroscience fields.
Program Highlights
As a student in our master's degree program in neuroscience program, you'll:
Be actively involved in research with and mentored by a program faculty member as you dive into topics like Alzheimer's, neurodegenerative diseases, traumatic brain injuries, molecular neurobiology and aging.
Gain hands-on experience with today's most vital neuroscience research — CNS control of respiration, studying the causes and potential treatments for Alzheimer's, Huntington's, and Parkinson's diseases.
Careers & Outcomes
Neuroscience master's graduates become medical professionals (MD, DO, PA, PT, etc.), researchers (in biotech, pharmaceutical, hospitals, etc.), or educators (teachers, professors, etc.). Many alumni take on other professions that value the critical thinking skills and ability to synthesize diverse information gained by studying neuroscience.
| Career | Projected Salary |
| --- | --- |
| Psychologist | $81,040 |
| Medical Scientist | $95,310 |
| Laboratory Manager | $137,900 |
| Clinical Research Coordinator | $51,865 |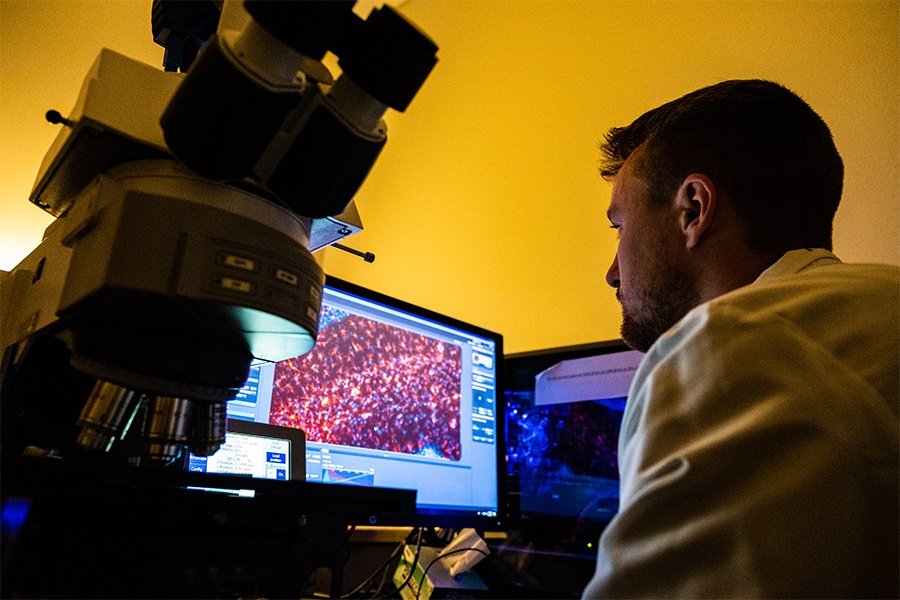 Research targets brain disorders
Explore how CMU research targets brain disorders such as Alzheimer's and Parkinson's. Discover how an interdisciplinary CMU team is using their NIH funding to conduct research on delivering DNA to affected cells.
Study the Alzheimer's inflammation link
CMU faculty members are part of collaborative research to delay symptoms by focusing on the inflammation link. Explore how CMU is at the forefront of this vital research.