Program Overview
In our neuroscience program, you'll complete the coursework and experiential learning needed to become an independent researcher and a leader in the field. From exploring new treatments for neurodegenerative diseases to better understanding how the nervous system responds to illness and injury, you'll be engaged in critical research from day one.
A Ph.D. in neuroscience trains you to do critical research on the brain and nervous system. You'll find answers to questions that will help people live mentally and physically healthier lives.
Program Snapshot
Program Length:
4-5 years
Why This Program & What You'll Learn
We train students who want to pursue applied research. Our program follows a mentorship model. From start to finish, you'll work closely alongside a faculty member whose research interests match your own. In fact, we encourage you to contact program faculty members in your area of interest before submitting your application.
We embrace the interdisciplinary nature of neuroscience, drawing faculty from the departments of psychology, biology, health sciences and medicine.
In your first two years, you'll complete foundational coursework and design a research project with your faculty mentor. After a successful defense of your proposed research, you'll work on completing a research plan, writing a scientific paper and defending your dissertation work.
Program Highlights
As a neuroscience Ph.D. student, you'll benefit from:
Our mentorship model that ensures you work with a faculty mentor with shared interests.
State-of-the-art facilities that include equipment designed for research projects that explore neuroscience from a molecular and cellular aspect as well as from a behavioral aspect.
Graduate research assistantships, based on yearly progress, which provide a stipend and tuition remission.
Careers & Outcomes
Our neuroscience Ph.D. students have become internationally-recognized researchers. Graduates of our program go on to postdoctoral work in laboratories around the globe. They obtain professional positions in academia and in biotechnology, pharmaceutical companies and the global healthcare market.
| Career | Projected Salary |
| --- | --- |
| Laboratory Manager | $137,900 |
| Research Scientist | $74,342 |
| Clinical Research Director | $95,543 |
| Research and Development Director | $100,617 |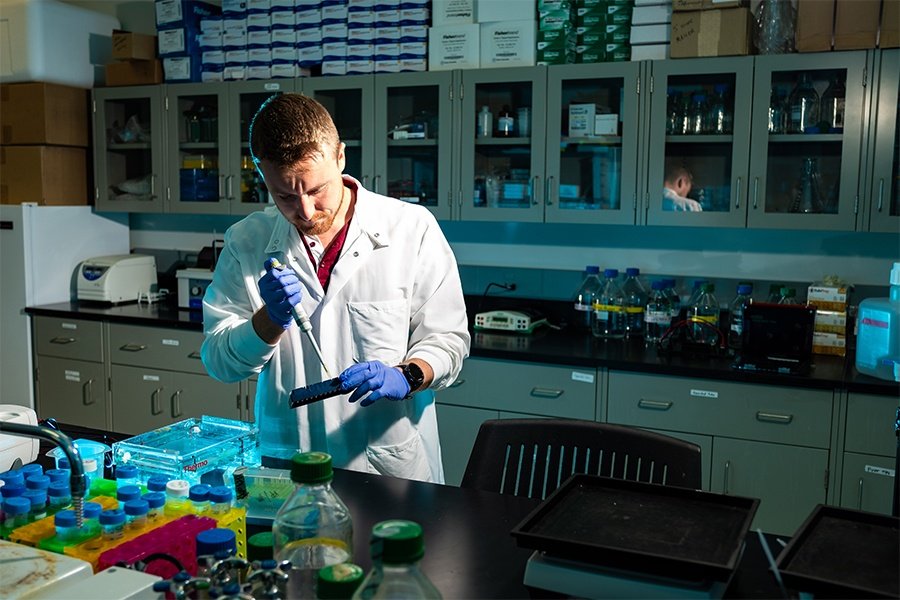 Alzheimer's-Inflammation Link Studies
Neuroscience faculty members Yannick Marchalant and Kevin Park are examining the role of inflammation in developing Alzheimer's disease.
Research Targets Alzheimer's, Parkinson's
A team of interdisciplinary CMU scientists receives NIH funding for novel research with the potential to treat brain disorders, including neurodegenerative diseases.