About Program Board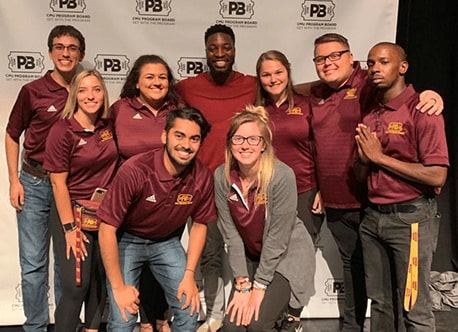 Members of Program Board assist in the planning of many Central Michigan activities and events from Open Mic Nights to major concerts. Membership is open to any current CMU student.
Members are those who attend a minimum of 50% of scheduled events during the semester and 67% of the general Program Board meetings, which take place once a week.
Program Board understands that members are students first, and any Program Board events and meetings are taken into consideration with regard to maintaining membership status.
Central Michigan University was established in Mount Pleasant, Michigan in the spring of 1892. As the university began to grow, it became obvious to an administration that students needed organized activities to help them get through the cold winter nights.
President Eugene Warriner believed in students and their ability at the college level to be able to forge their own path. He was instrumental in putting together the first student council, now known as Student Government Association. He also helped form the first marching band and cheerleading squad. In 1924 when Student Council began holding meetings, one of their responsibilities was to plan social events for students on campus. In 1926 Student Council approached the Board of Trustees and the President and asked to be able to charge a six-cent fee to every student that would help fund Student Council and student activities. The board agreed and Student Council began planning more elaborate activities and social events.

Then in the spring of 1928, Student Council approached the Board of Trustees again asking them to increase the fee that was charged to students so that they could increase the programming. After much discussion, the board decided that it was in the best interest of the students to take the responsibility of programming from Student Council and form what was called the Student Activities Board.
Officially the Student Activities Board began in the fall of 1928. Since then the group has changed its name several times and is now called CMU Program Board. Program Board is unique in that it can put CMU before its name because it was one of the three organizations established by the Board of Trustees. Today, Program Board is well known as one of the strongest programming groups on campus, providing a wide range of entertainment, large and small.