New Venture Challenge
Challenge yourself to transform your big idea into a successful business with the New Venture Challenge. Through a series of workshops, bootcamps, and networking events, you will engage your entrepreneurial mindset while learning start-up skills, building key relationships, pitching your ideas, competing for funding, and launching your business.
Are you interested in competing in the 2024 New Venture Challenge? Fill out this short form to sign up for NVC updates.
Why should you participate in CMU's New Venture Challenge?
Journey to NVC
The CMU New Venture Challenge (NVC) is a program for students enrolled across all colleges at CMU to develop their entrepreneurial mindset, learn business start-up techniques, and develop their business ideas. It is intended for very early-stage student business ventures. NVC provides a transformational experience where students are able to earn start-up funds for their businesses with over $75,000 in total cash awards.
NVC provides multiple opportunities to connect with experienced entrepreneurs, alumni, business professionals, venture capital experts, angel investors, faculty, and community leaders. Venture teams work on their ideas over two semesters, pitch their businesses to experienced professionals, make adjustments and compete to earn/win start-up funds and in-kind services.
To support and prepare participating venture teams, several NVC 101 workshops and two larger NVC Bootcamp events are hosted by CMU's Isabella Bank Institute for Entrepreneurship (IBIE) each semester. These are focused on start-up basics using the Business Model Canvas approach. Teams are encouraged to create minimal viable products, create financial forecasts, and do customer discovery and validation. Teams will be paired with a primary mentor to help them throughout the process. In the fall, students have the opportunity to provide a two-minute pitch during the Make-A-Pitch competition to gain feedback from professionals.
To enter the 2024 New Venture Challenge, one team member must complete the intent to compete form. This registers you to participate in the competition. The intent to compete form will be available Monday, January 22 at 8:00 AM and closes Friday, March 8 at 11:59 PM.
Are you planning on participating? Check back for updates to the NVC competition rules and guidelines page for additional submission deadlines and information.
Learn.
Come up with an idea or work on an idea you already have during our NVC Kick-off event.
Join our bootcamps that guide you through the start-up process.
Discover ideation, customer validation, and other start-up skills during our 1-hour workshops.
Connect
Meet and match with students who possess different skills to build your venture team.
Be paired with an NVC mentor who will advise on the growth and development of your venture.
Build key relationships with student entrepreneurs, advisors, investors during our Bootcamp Networking Nights.
Connect with resources on campus to help improve your venture.
Compete.
Win cash prizes when you compete in the Make-A-Pitch competition and New Venture Challenge.
Pitch your business idea and receive feedback.
Refine your idea and enhance your business concept based on professional feedback.
Launch.
Gain support and connections through the resources of IBIE.
Utilize the skills you have learned to launch your business.
Important dates
January 22 - New Venture Challenge Intent to Compete Form opens (this is a short form that enters your team into the competition but you do not need to submit your completed pitch entry until March 22).
March 8 - New Venture Challenge Intent to Compete Form closes.
March 22 - All venture entries due. Elevator pitch competitors must submit a recorded video of their pitch. Full Presentation teams must submit their website and logo. Please see the rules and guidelines page for the full list of the submission requirements.
March 22 - NVC Qualifying Round. Full Presentation teams will present a 5-minute version of their pitch to a panel of judges. Select teams will move on to the virtual NVC Preliminary round.
April 2 - NVC Preliminaries. Full Presentation teams will present a 5-minute version of their pitch with 5-minutes of Q&A from judges through an online platform.
April 19 - The 2024 New Venture Challenge Finals.
Join NVC anytime
Students interested in competing can join anytime before the Intent to Compete form deadline Friday, March 8.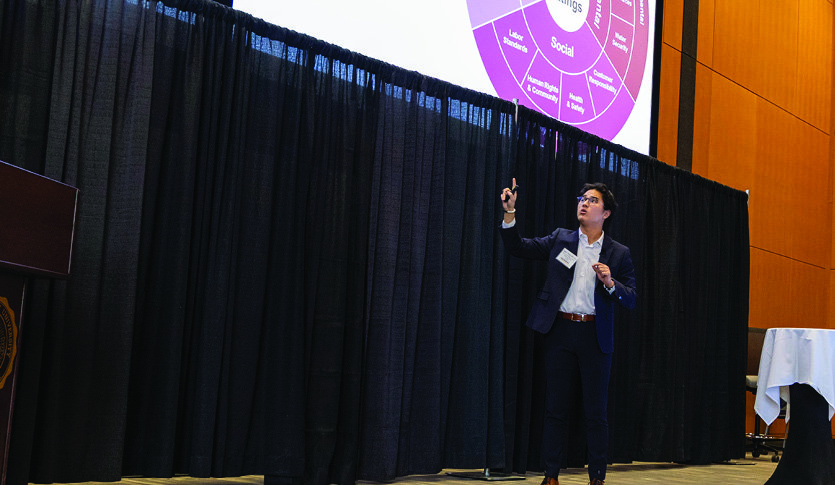 NVC workshops and events
Leading up to the New Venture Challenge we host bootcamps, workshops, and the Make-A-Pitch competition to help prepare your team for the 2024 New Venture Challenge.

NVC Bootcamps
NVC Bootcamps run twice a semester on a Friday. As a NVC participant you will attend sessions from 1:00 - 4:30 pm with NVC mentors to help build up your business idea and the skills you need to know to successfully participate in The New Venture Challenge. Mentors are available during this time to assist you and your team. After a short break, participants will head over to another location from 5:30 - 7:30 pm alongside other students, mentors, supporters and staff for a fun networking night. This networking event is will boost your soft skills. You can ask mentors questions, and learn from experienced entrepreneurs. Food and drinks are provided. All CMU students are welcome to attend NVC Bootcamps. Students who plan on participating in the New Venture Challenge competition are required to attend at least two NVC Bootcamps during the 2023-2024 academic year.
Bootcamp topics include but are not limited to:
Business model canvas
Financials
Customer validation
Market segmentation
Website building and design
Executive summary writing
Pitch practice
PowerPoint presentation practice
Check out the next NVC Bootcamp and register today!
1-hour NVC 101 workshops
Throughout the academic year, Entrepreneurship Professor John Gustincic leads one-hour NVC learning sessions to help prepare your team and venture for the competition.
The first workshop, NVC 101: Intro to Developing a Winning Business Model will take place Monday, October 9 from 5:00-6pm in Grawn 166. Please check out our event page to register for these sessions.
NVC resources
Do you need help coming up with a venture idea? Do you need to find students to build a team? Or want to strengthen your skills in business? Check out our page for a full list of resources available for NVC participants.
Student resource folder
Check out the NVC Resources page for links to help you on your venture journey. The resources page includes a NVC student resource folder that contains:
Competition rubrics for each full presentation category (high growth high potential, social mission, and main street)
NVC Team Agreements
Business Model Canvas tools
An NVC app for your phone and desktop to track your venture development
NVC mentor bios
NVC mentor program
Every New Venture Challenge team will be paired with a primary mentor who will routinely check-in with you and your team. Students can ask mentors to be their primary mentor and vice versa. Check out the NVC mentor bios on our resource page.
The IDEA Den
Stop by Grawn 166 from 9:00 - 5:00 pm, Monday - Friday to work on your venture ideas, build prototypes and make connections with Entrepreneurship faculty and staff. Get to know other student entrepreneurship enthusiasts!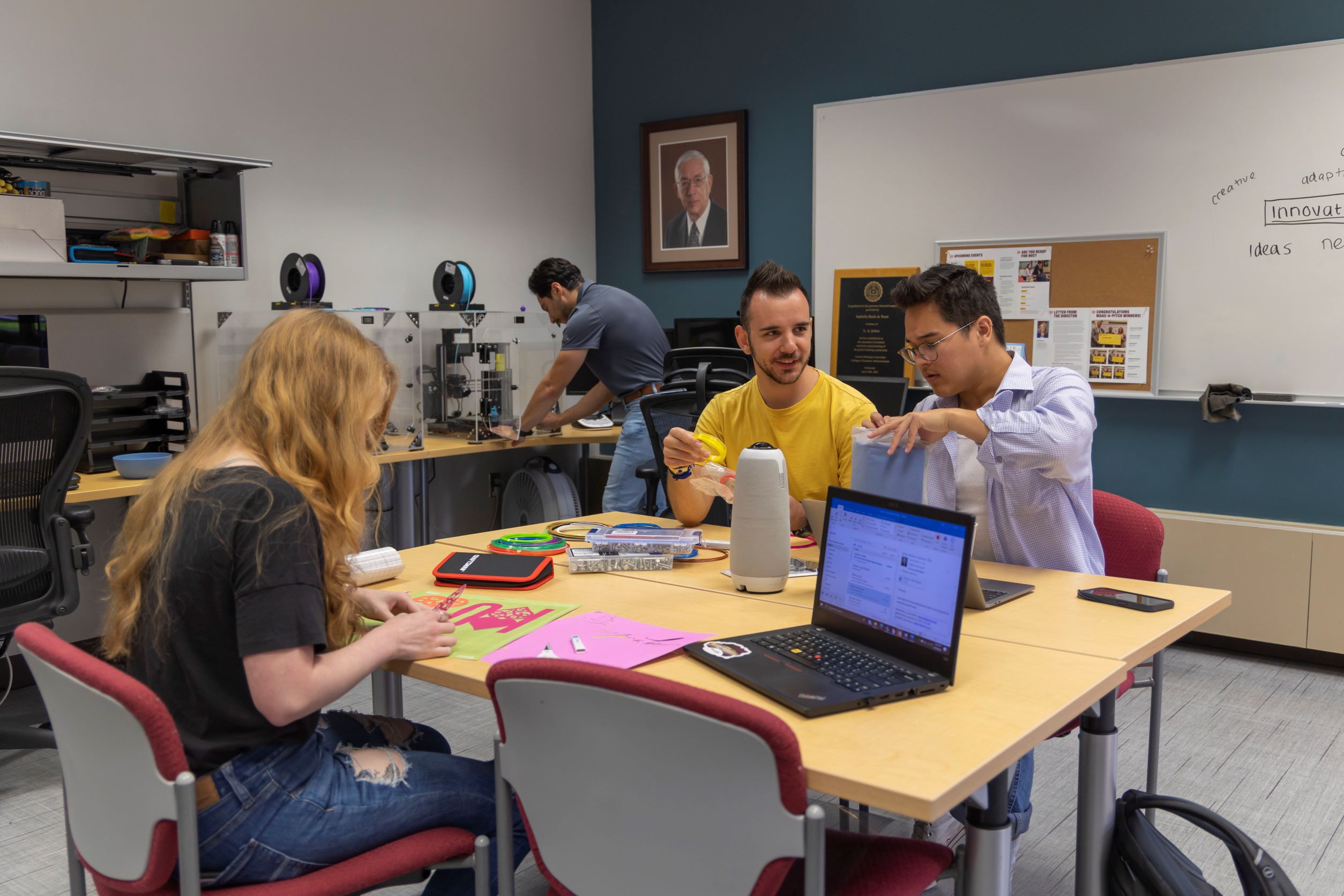 Ready, set, pitch!
What is it like to come up with a venture idea and pitch at the New Venture Challenge? Check out what NVC 2023 top prize winner Zach Bagby has to say.
Zach Bagby, New Venture Challenge Winner
New Venture Challenge competition categories
1. Full Presentation
*Each Full Presentation category venture team must have at least two members. Please check out the resources page for team agreement templates. Questions? Contact Professor John Gustincic.
10-minute pitch presentation with 5-minutes for Q&A on stage
Pitch deck
A venture table display during the gallery
Minimal viable product recommended
2. Elevator Pitch and Gallery
*The Elevator Pitch and Gallery competition is combined. Competitors who participate in this category must set up a venture display and give a three-minute pitch to judges at their display table.
A venture table display
3-minute pitch to judges during the gallery
3. Campus Innovation Showcase
A table display of an innovative student-led project during the gallery
Please see the NVC rules & guidelines page for an in-depth list of competition requirements.
NVC Awards and Prizes
Check in for updates on the 2024 NVC awards and prizes.