Honoring Dr. Martin Luther King Jr.'s call to "be love."
Note for readers:
The theme of this year's CMU CommUNITY Peace Service was "Be Love," in honor of the Be Love pledge and movement introduced in 2021 by The King Center. Remarks made by our students and staff centered on the call to action at the heart of the Be Love pledge, inspired by these words from King's 1967 book "Where Do We Go from Here: Chaos or Community?" "Power at its best is love implementing the demands of justice. Justice at its best is love correcting everything that stands against love." Today's blog is my speech — my call to action — for the CMU community as we celebrate Martin Luther King Jr. Week on our campus.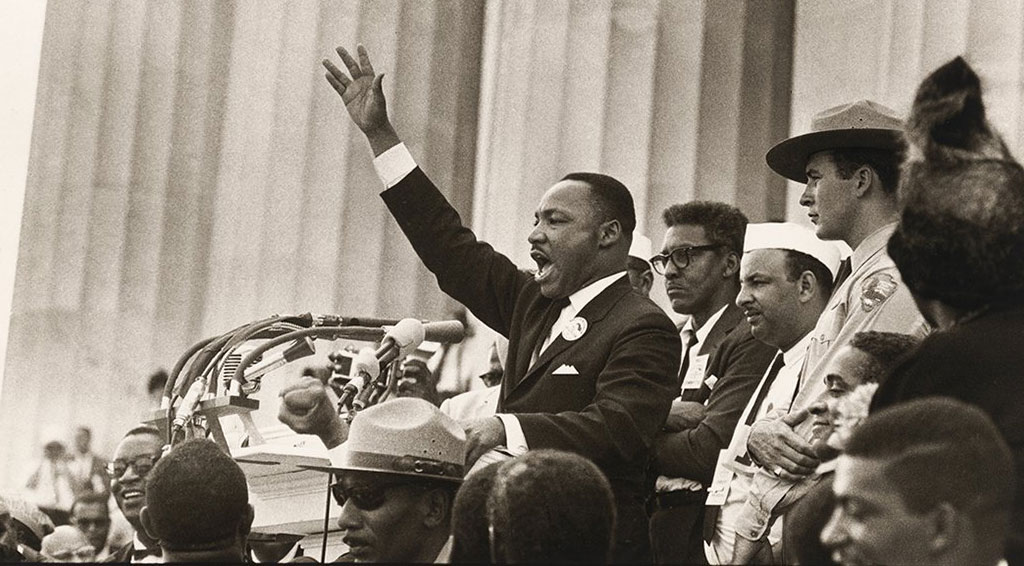 Many years ago, as a graduate student at the University of Oregon, I purchased a copy of the combined speeches and writings of Rev. Dr. Martin Luther King Jr. from a used bookstore. Now, it is never far from my desk.
I find that, in moments of challenge, I can turn to these pages for wisdom and guidance. Today, as we celebrate his life and legacy, I am honored to reflect on a message from Dr. King that I believe holds great meaning for our university community.
While Dr. King is often remembered as a remarkable writer and orator, he also was a great mobilizer of action. He led peaceful protestors in the March on Washington, inviting people to raise their voices to speak truth to power. He encouraged nonviolent protest actions, such as sit-ins at segregated restaurants. He strongly believed that both words and actions were necessary to achieve justice.
In his landmark "Letter from a Birmingham Jail," Dr. King said he believed the greatest threat to the civil rights movement was NOT the action of groups like the Ku Klux Klan. Rather, King believed it was the INACTION of "the white moderate, who is more devoted to 'order' than to justice" that posed the most significant challenge. He wrote, "We will have to repent in this generation, not merely for the hateful words and actions of the bad people, but for the appalling silence of the good people."
Dr. King expressed his disappointment in church and civic leaders who chose to "stand on the sideline and mouth pious irrelevancies and sanctimonious trivialities" while others suffered. Their failure to take action, King said, made them "arch-defender[s] of the status quo."
In today's ongoing struggle against injustice, inequality and inequity, we cannot afford to stand on the sidelines. We cannot be silent defenders of the status quo. We must speak out. We must take action.
We all have the ability, and the responsibility, to use our knowledge, talents and skill to improve the world around us, to work for justice and peace, and to work for positive social change. We all have the ability and the responsibility to lead.
At CMU, we say "We do" because we are a community of leaders and engaged citizens committed to working for the greater good. We say, "We do" because we know that powerful positive change can never be achieved by standing on the sidelines and waiting. True transformation is the byproduct of action, of constant striving.
As Dr. King writes later in his letter, "Human progress never rolls in on wheels of inevitability; it comes through the tireless efforts of men [and women] …"
We do not wait on inevitability. We take action. When you read the "BE LOVE" pledge, you will see that it asks us to speak up and speak out, to promote unity, to "boldly confront anything that stands in opposition to love."
Today, as we honor the life and legacy of Dr. King, consider how you will "be love," and imagine the difference you can make in the world. Think about how you can use your words and actions to lift up people and communities, to set the leadership standard, and to inspire others to follow your example.
Remember, we do have the power, the ability and the responsibility to create tremendous positive change. I cannot wait to see what you will achieve.