Indigenous Peoples' Day
We Honor Indigenous Peoples' Day
We believe it is beneficial to celebrate the lives of Indigenous peoples, ancestors and culture that has been passed down through the generations while simultaneously reclaiming an otherwise degrading and historically inaccurate holiday. We also believe this change will encourage students to educate themselves, and fellow peers, on the accurate historical facts of Christopher Columbus.
Not only will this show Indigenous students that they have a voice on this campus, it will also serve as a chance to educate students and peers on why Indigenous people do not condone the celebration of Christopher Columbus.
History of Indigenous Peoples' Day at CMU
In the fall of 2017, the Student Government Association brought forth a resolution to the Academic Senate to replace Columbus Day with Indigenous Peoples' Day on the Central Michigan University calendars. On November 21, 2017, the resolution passed with a majority vote.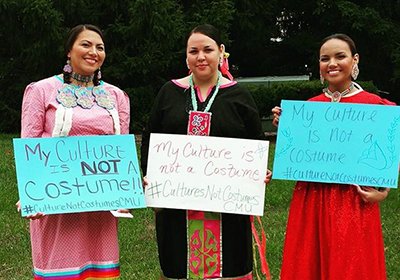 History of Indigenous Peoples' Day
In the 1980s, Colorado's American Indian Movement chapter began protesting the celebration of Columbus Day. In 1989, activists in South Dakota persuaded the state to replace Columbus Day with Native American Day. Both states have large Native populations that played active roles in the Red Power Movement in the 1960s and 1970s, which sought to make American Indian people more politically visible.
Then, in 1992, at the 500th anniversary of Columbus' first voyage, American Indians in Berkeley, California, organized the first "Indigenous Peoples' Day," a holiday the city council soon formally adopted. Berkeley has since replaced its commemoration of Columbus with a celebration of Indigenous people.
The holiday can also trace its origins to the United Nations. In 1977, Indigenous leaders from around the world organized a United Nations conference in Geneva to promote Indigenous sovereignty and self-determination. Their first recommendation was "to observe October 12, the day of so-called 'discovery' of America, as an International Day of Solidarity with the Indigenous Peoples of the Americas." It took another 30 years for their work to be formally recognized in the United Nations Declaration on the Rights of Indigenous Peoples, which was adopted in September 2007.
–PBS News Hour
Explore Indigenous Peoples' Day for yourself
We Shall Remain: America Through Native Eyes –PBS video series
Trail of Tears –Mill Creek Entertainment
500 Nations –Warriner Video
Genocide of the Mind –Edited by MariJo Moore
Rez Life –by David Treuer
The Ghost Dance Religion and Wounded Knee –by James Mooney