National Scholarship Program
Assisting talented students pursuing national and international scholarships and fellowships. The Central Michigan University National Scholarship Program assists top academic students competing for prestigious annual awards, including the Boren, Fulbright, Gates Cambridge, Goldwater, Mitchell, Madison, Marshall, Rhodes, Truman, and Udall scholarships and fellowships.
Since 2012, CMU has had:

11 Fulbright U.S. Students
7 Goldwater Scholars
4 Boren Scholars/Fellows
2 Humanity in Action Fellows (only 26 U.S. students awarded annually)
1 Udall Scholar – environment category (only 55 awarded annually)
National Scholarship Program staff work closely with CMU faculty to identify prospective, highly qualified students, and will assist potential candidates throughout the application process to address guidelines, develop ideas, and strengthen and submit the application.
Many of the national scholarships and fellowships require nomination by or endorsement from CMU faculty and the National Scholarship Program Committee.
We encourage you to browse this website to learn more about the National Scholarship Program, and the scholarships and fellowships we support.

We serve all CMU students, staff, faculty, and alumni.​

Love of discovery leads to Goldwater Scholarship
by Ari Harris
As a high school student, Ault was interested in pursuing a career in art and animation until a class assignment dramatically shifted his plans.
"I had to do a job shadow assignment and I went right to the A's on the alphabetized list of options to look for artist or animation. Not finding either, I chose the next on the list, which was astronomer."
Ault enjoyed going to the Roger B. Chaffee Planetarium in Grand Rapids, MI, but he had not considered making this interest a career pursuit. However, shortly after the job shadow assignment, he decided to take physics.
"It was the first class that I struggled in, and I dreaded going to class on the days that we had exams," Ault said. "I had to work harder in physics than any other class, but it also challenged me more than any previous class, so I enrolled in another."
In Ault's second semester at CMU, he began working with Marco Fornari, a faculty member in the Department of Physics. Their research focuses on quantizing John Conway's Game of Life such that the cellular automaton can be used to study quantum phenomena in a more direct way. He found again that physics provided the challenge that had originally piqued his interest.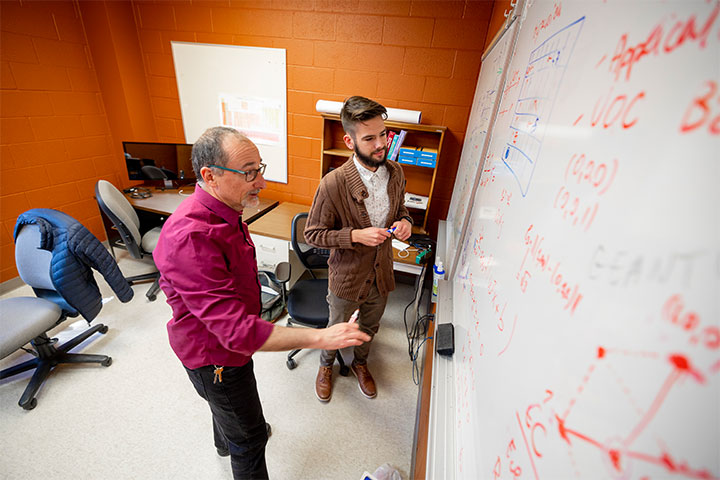 "The blatant irreversibility of Conway's Game of Life was a problem in our quest to quantize it," he said. "After some thought, I was able to solve it; reversibility is a requirement, but Conway's rules could be adjusted. I was able to formulate these rules in such a way that the system would evolve via a unitary matrix."
"It was through this incredible experience of discovery that I finally gained the confidence to acknowledge that this was a career to which I am well suited," he said.
Ault worked with his research advisor, Marco Fornari, and Maureen Harke, the director of the CMU National Scholarship Program throughout the Goldwater Scholarship application process. The Goldwater Foundation seeks to identify, encourage, and financially support college sophomores and juniors who demonstrate strong potential to become the next generation of leaders in STEM research. Ault was selected from a competitive pool of 1,267 applicants from 427 institutions to receive this award.
This summer, Ault will gain further research experience when he joins the Theory and Simulation group at École Polytechnique Fédérale de Lausanne, Switzerland, one of the world's most prestigious universities, which is noted for the quality of its education and research.
"I am excited to be abroad for the first time, and I am honored to have the opportunity to participate in this research that will further prepare me for my career," Ault said. "I plan to pursue a Ph.D. in theoretical physics, conduct research in quantum gravity, and build a career that combines learning, discovering, and teaching. I feel very fortunate to have conducted research with Dr. Fornari, and I have had many opportunities for professional development that I would not have had otherwise."