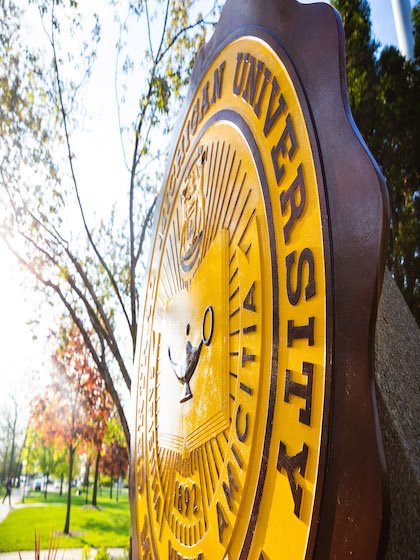 New Student Orientation for Freshmen Students
Getting started
We look forward to working with you as you begin your student experience at Central Michigan University! New Student Orientation is required for all main campus, first-year, degree-seeking students. On your orientation day, you will join your new classmates for sessions introducing you to our CMU community and making the most of your time at Central. You'll meet with academic advisors, our student mentors, and other CMU staff to learn about academic requirements, campus resources, and ways to get involved. You'll also plan and register for your first semester.

Complete the following steps below to schedule and begin preparing for your orientation session.
Step 1: Reserve your required orientation date
Space for each orientation session is limited and is assigned on a first-come, first-served basis. Once CMU has received and processed your enrollment deposit, you will be able to reserve an orientation date. Log in to your applicant portal (using the email address and password established with your application for admission) to access the registration system. This reservation process will take approximately 15-20 minutes to complete.
Step 2: Activate your CMU account
Your CMU account provides you access to your CMU email, housing application, financial aid package, and just about everything you need as a CMU student. Set up your account using your New CMU Account PIN found at the bottom of your admissions letter and in your applicant portal.
Step 3: Check your CMU Email account often

All official university communication is sent to your '@cmich.edu' email address. Make a habit to check your CMU email several times during the week.
CentralLink contains many important links to conduct your business as a CMU student.
Step 4: Take the Required CMU Math Placement
Be sure you take the required CMU Math Placement one week prior to your scheduled orientation. Taking the math placement helps our advising staff to map out the appropriate courses for you!
Step 5: Join the official CMU Class of 2026 Facebook group

Connect with other new students along with university programs, services and departments.
As part of the orientation process, you also have access to a variety of great online resources and recorded sessions to learn more about your academic area of study and to help you make the most of your transition to CMU. You can also schedule appointments to learn more about areas such as billing and financial aid, student employment, and getting involved on campus.
Join CMU Class 2026 Facebook Group
Campus Life 101

In addition to your New Student Orientation session, you'll also complete Campus Life 101 as you begin your fall semester. These programs will help you connect to campus life at Central Michigan University and becoming part of our community. More details will be shared over the summer.
CAMPUS LIFE 101
No Zebras, No Excuses; College Life & the Law; Campus Diversity, Equity & Inclusion.

Please note: No Zebras, No Excuses is a scenario-based presentation addressing the issues of sexual assault, domestic violence, stalking and harassment.
CMU is committed to developing a caring and supportive culture for our students. In order to accomplish that, we want to ensure that you are a part of this dialogue. That conversation starts with two online training programs which you will complete during your first semester. An email notification will be sent early in the semester and we encourage you to complete these trainings early so that you can be a part of the continued conversations to foster CMU's caring and supportive culture.
If you have any questions about the orientation process, please contact the Orientation Office at 989-774-6629 or orientation@cmich.edu.