Towers Community
An energetic community with a mix of first-year and upper-level students. Troutman Hall is home to two of our Living Learning Communities. Carey Hall has updated finishes and full-sized beds. Kulhavi Hall offers an individual bedroom suite-style for first-year students. While Campbell and Kesseler Halls house upper-level students. Students in the Towers live in suite-style housing with private bathrooms.
The Towers Community is closed during Thanksgiving, semester and spring break periods. Students knowing they will need housing over breaks should explore a housing assignment in the East Community.
Troutman and Wheeler Halls

Troutman Hall is home to the Multicultural Advancement and Cofer Scholarship (MAC Scholar) Residential College and Public Service Residential College living learning communities.
Coed by room
7 floors with elevators
1-bedroom suite shared by 2 people
Private bathrooms
Available to first-year, transfer, returning year 2 and returning year 3+ students
360 tour: CMU's two-person standard room
(360 video)
Residence Hall Directors
Troutman Hall - Alància Crossley (email: cross3a@cmich.edu)
Wheeler Hall - Ben Sobczak (email: sobcz1bd@cmich.edu)
Room contents
Twin-XL bed (36"Wx80"L) (one per resident)
Dresser with 6 drawers (30.25"Wx20.25"Dx48.25"H)
Desk (38"Wx24"Dx30.5"H) (one per resident)
Desk chair (one per resident)
Closet (6'Wx2'6"D)
Ethernet computer hook-up
Shower curtain
Curtains on windows
Beds can be bunked (pins to bunk the beds are available at the front desk), raised on track of bed frame (up to 32"H under the bed) or lofted by renting a loft from Bedloft.com
Approximate room dimensions:
Bedroom - 10' 1/2" wide by 15' 1/2" long
Common room - 8'10" by 15' 1/2"long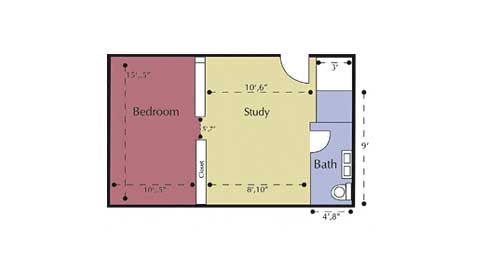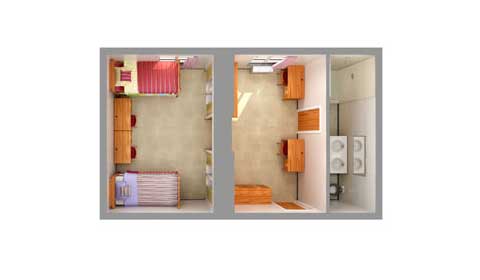 Carey Hall

Coed by room
7 floors with elevators
1-bedroom suite shared by 2 people
Private bathrooms
Accessible accommodations available
Full-XL beds
15% additional room charge
Two floors are reserved for first-year students
Available to first-year, transfer, returning year 2 and returning year 3+ students
360 view: CMU's two-person premium suite
Residence Hall Directors
Carey Hall - Traci King (email: king1tm@cmich.edu)

Room contents
Full-XL bed (54"Wx80"L) (one per resident)
Dresser with 6 drawers (30.25"Wx20.25"Dx48.25"H) (one per bedroom)
Desk (38"Wx24"Dx30.5"H) (one per resident)
Desk chair (one per resident)
Closet (6'Wx2'6"D) (one per bedroom)
Ethernet computer hook-up
Shower curtain
Curtains on windows
Beds can be raised on track of bed frame (up to 32"H under the bed)
Approximate room dimensions:
Bedroom - 10' 1/2" wide by 15' 1/2" long
Common room - 8'10" by 15' 1/2" long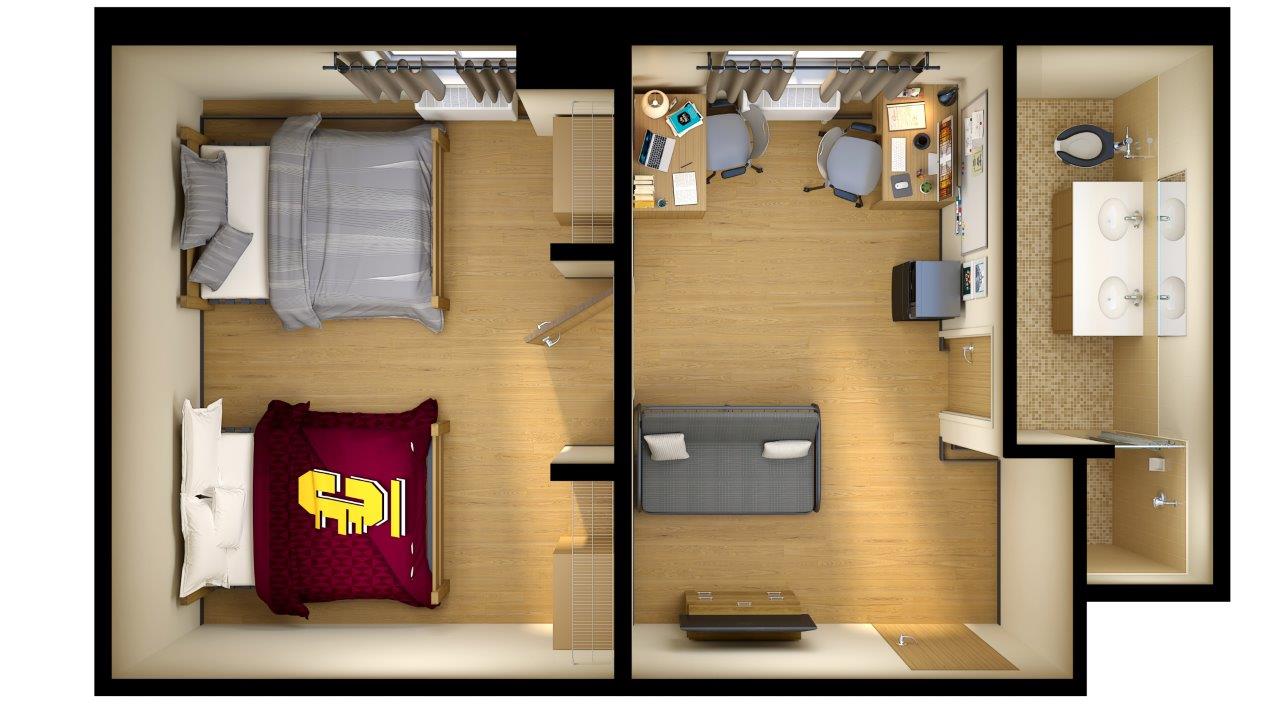 Campbell, Kesseler and Kulhavi Halls

Coed by room
5 floors with elevators
4-person, 4-bedroom, 2-bathroom suite
Accessible accommodations available

Air-conditioned
30% additional room charge
Campbell and Kesseler Halls: Available to transfer, returning year 2 and returning year 3+ students
Kulhavi Hall: Available to first-year students
360 tour: CMU's four-person premium room
(360 video)
Residence Hall Directors
Campbell Hall - Traci King (email: king1tm@cmich.edu)
Kesseler Hall - Darell Armentrout (email: armen1dg@cmich.edu)
Kulhavi Hall - Ben Sobczak (email: sobcz1bd@cmich.edu)
Room contents
Twin-XL bed (36"Wx80"L) (one per resident)
Dresser with 3 drawers (36"Wx24"Dx30"H) (one per bedroom)
Desk (42"Wx24"Dx30.5"H) with hutch (42"Wx12"Dx30"H) (one per resident)
Desk chair (one per resident)
Armoire with hanging above and 3 drawers below (no closet) (3'4"Wx2'Dx6'H) (one per bedroom)
Ethernet computer hook-up
Shower curtain
Curtains on windows
Beds can be lofted on track of bed frame (up to 64"H under the bed)
No university furniture in shared living room
Approximate room dimensions:
Bedrooms - 8'8" wide by 11' long
Common room - 16'5" wide by 9'8" long