Adapting in uncertain times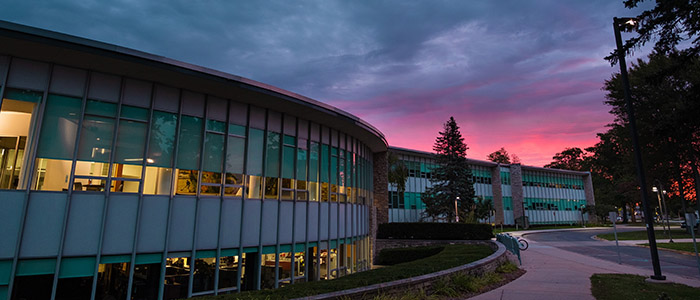 The past three weeks have been among the most difficult in my career in higher education. To say that we are navigating uncharted waters is an understatement — the coronavirus is impacting everything about our way of learning, working and living. I know many members of our community are struggling with feelings of fear, anxiety and frustration. I want you to know that these feelings are natural and valid. These are uncertain times and it's hard to know what to expect or how to plan for what's ahead. I hear, and share, many of your concerns.
We've had to make some decisions we knew would be unpopular: In these circumstances, there have been no perfect solutions for many of the challenges we face. Any choice may pose difficulties for some members of our university community and will affect our students, faculty and staff differently. There's no one-size-fits-all solution.
We are weighing all options carefully. We review successes and lessons-learned from peer institutions. We consider the guidance from our state and local leaders; we depend on recommendations from public health officials; and we always align our choices with our mission, vision and values. I want to thank the members of our Emergency Management working groups for their tireless efforts to respond to constant changes, consider all options, recommend paths forward and work collaboratively across divisions to implement plans quickly.
I also want to sincerely thank all our CMU faculty and staff.
CMU is like a small city – there's no way to simply "shut it down." There are students who, for a variety of reasons, must continue to call CMU home. Our staff provide shelter, food and support. Our faculty continue to teach our students and engage in critical research. Our police keep our campus safe; our Counseling Center staff answer calls and emails from students in need of a listening ear. Maintenance staff keep power flowing, lab techs keep research on track, office professionals ensure that paychecks and benefits continue. The list goes on and on.
Like many organizations, our people are our greatest asset. There is no doubt that, at CMU, we have the very best people.
Many of you are familiar with CMU's
Leadership Standards Initiative
. While each of the six standards offers wonderful guidance for our decision-making and actions, I'd like to reflect today on standard six: Focused on Students and Passionate about Central Michigan University.
It reads in part: CMU leaders demonstrate a One CMU mindset by putting CMU's overall needs, priorities and service to students above that of the individual or unit. Our decisions uphold the needs of the entire university and its students.
In the past three weeks, I have seen this standard in action every day. I have seen people from every department and division go the extra mile to serve our students, support one another and keep the university open.
Thank you. We would not be where we are today without each and every member of our university community. I am grateful to call you colleagues and friends.
I also want to thank our students.
These have not been easy transitions for you, and I have been inspired by the way you've reached out to one another — and to me — to offer support and encouragement. Thank you for facing uncertainty with determination and enthusiasm. In higher ed, we talk often about preparing the leaders of tomorrow. YOU are leaders today: You are showing others how to overcome any obstacle with the strength of your convictions.
If you haven't seen it already,
watch this powerful video message
from Sydney Reed, CMU's 2019 Gold Ambassador. Like Sydney, I believe "CMU Chippewas are strong, resilient, and there is nothing that can tear us down." We can all turn our fear into the ability to Face Everything And Rise.
We will succeed together. We will come out stronger on the other side of this.
As we prepare to face another week of change, I urge you to practice compassion, kindness and patience — for others and for yourself — especially in your electronic interactions. People who feel frightened and anxious may sometimes be unkind; they may lash out at you on social media and in emails. It's easy to get angry and fire back. Instead, I ask you to take the high road.
Scroll past the negative comments — refuse to show up for the fight. Give yourself permission to ignore the barbs intended to sting and to focus instead on the kindness you can show to others. In every interaction, remember our core values: integrity, respect, compassion, inclusiveness, social responsibility, excellence and innovation.
In the past few days, many of you have reached out via email or social media to offer me encouragement and support. Your kind words have truly recharged my batteries — knowing that I am working for you gives me the drive to push forward.
Thank you, CMU.
Blog:
Presidential Perspectives
posted | Last Modified: | Author:
by by Bob Davies, CMU President
| Categories:
President's Office