Becoming Antiracist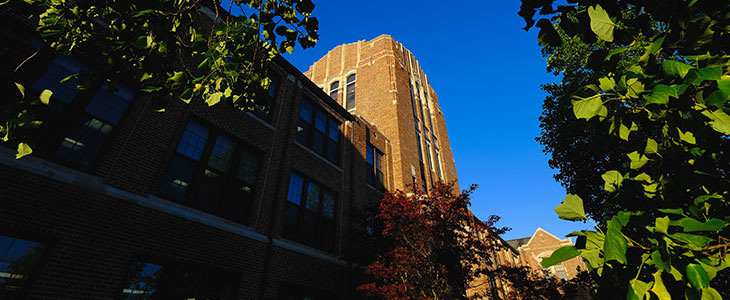 This summer, as our nation was reeling from the senseless killings of several Black men and women, the very highest level of our university's administration made a promise: CMU will serve as a leader in the national response to the complex issues of racial inequality and injustice.
The resolution by our Board of Trustees
was a powerful statement — a pledge, really — to our students, faculty and staff that our university will take immediate and ongoing action to uphold
our core values
and to promote diversity, equity and inclusion.
Around the same time, a colleague recommended I read the book, "How to Be an Antiracist," by
Professor Ibram X. Kendi
. I spent several weeks reading, re-reading, underlining passages and absorbing the advice I found within its pages. As I read and reflected on the mandate from our Board of Trustees, the end goal became clear: CMU must become an antiracist institution.
In his book, Kendi explains that the opposite of racist isn't simply "not racist," it is antiracist. He writes, "What's the difference? One endorses either the idea of a racial hierarchy as a racist, or racial equity as an antiracist. One either believes problems are rooted in groups of people, as a racist, or locates the roots of problems in power and policies, as an antiracist. One either allows racial inequities to persevere, as a racist, or confronts racial inequities, as an antiracist."
CMU must become antiracist
The work to achieve this goal starts at the top. It began with the Board of Trustees and me, and it is now the work of all our university's top leaders. Today, every member of my cabinet is reading the book and, with the help of the
Institute for Transformative Dialogue
and
Office of Diversity Education
, we are discussing how to bring antiracism into our university.
In July, I received a petition outlining a number of requests from a group of student leaders. Several overarching themes emerged from their calls to action:
More support for students who identify as Black, Brown, Indigenous and people of color, as well as those who identify as LGBTQ+.
Increased visibility for student events and organizations representing underrepresented groups.
Greater diversity among our senior administrators, faculty and staff.
Transparency in our data collection and reporting action steps related to diversity on our campus.
Their requests led me to a particular passage in Kendi's book: "I had to forsake the suasionist bred into me, of researching and educating for the sake of changing minds. I had to start researching and educating to change policy. The former strategy produces a public scholar. The latter produces public scholarship."
CMU currently has several offices and policies in place designed to address diversity, equity and inclusion efforts, yet I firmly believe there is more we can — and must — do to ensure we are a welcoming place for all people. And as Kendi suggests, they should begin with systemic change in our culture and in our policies, processes and procedures.
This involves changes that, over time, lead to a shift in organizational culture. Consider, for example, the step we took last year to add new goals related to diversity, equity and inclusion in annual performance evaluations and tenure review for staff and faculty. It likely did not seem a tremendous change at the time, yet imagine how our culture will change when thousands of staff and faculty work diligently to improve their understanding of these vital issues. For a large university like CMU, true institutional transformation can be achieved only by working collaboratively and consistently toward impactful and lasting change.
It is important that we continue to update our community on our ongoing efforts to become a more welcoming institution. Going forward, we are dedicated to sharing more frequent updates on our work in several key areas, particularly through this blog.
Support for BIPOC and LGBTQ+ students
It is also vitally important for leaders to hear from our students. Kendi wrote, "An antiracist treats and remembers individuals as individuals," and that is what we must do at CMU. Every voice matters. Every student's experience is unique, and their stories are vital to shaping our understanding.
Earlier this summer, I invited student leaders representing many identities to join a President's Student Advisory Network. I meet every other week with this group to discuss the challenges they see at CMU and to ask for their guidance as we seek solutions. They have been an invaluable source of information, critical feedback and advice; in fact, they served as editors for this blog post. Their questions and suggestions for both content and language led to a much stronger and more impactful message for our entire community.
One of the most important things any leader can do is acknowledge the limits of their knowledge and understanding and take steps to address them. I know I have blind spots, and so I am always challenging my perspective by asking questions and inviting feedback. I am a lifelong learner, and these discussions with faculty, staff and students are, for me, one of the biggest benefits to working on a university campus.
Following their suggestions, we soon will begin a 360-degree Student Equity Audit, facilitated by educational consulting firm EAB. This audit will comprehensively review every aspect of the student experience at CMU. A key focus of this assessment will be how CMU can better serve students of color, as well as first-generation students and other historically underserved populations. We will use what we learn as a roadmap to improve our programs and services.
Increased visibility of multicultural organizations, events and activities
Until this year, our Office of Student Affairs was housed in CMU's larger division of Enrollment and Student Services. Important issues related to the student experience were sometimes lost among competing challenges, and opportunities for improvement were sometimes overlooked.
Separating student affairs into its own division gives greater focus to important student service offices, such as Multicultural Academic Student Services, the Center for Inclusion and Diversity, and other offices that support student activities. These offices oversee much of the activity of our registered student organizations, and they will partner with our University Communications team to ensure we showcase the important work happening among our student groups.
At a recent staff leadership conference, I challenged all participants to seek ways to improve engagement with our students and to step outside of silos to work together to address bigger-picture issues. I am proud to say that CMU is home to the most collaborative and innovative staff of student affairs professionals I have ever known, so I truly believe the years ahead will be CMU's best.
Diversity in administration, faculty and staff
Changing the makeup of a university's workforce begins with the policies that guide the hiring process. To change our culture, we must examine, among other factors:
The language we use when crafting our job descriptions.
The criteria we use to determine qualification for a position.
The places we advertise open positions.
The composition of our search committees.
In my view, the composition of the search committee is particularly important. In past search committees for senior-level positions, we have always been careful to include representation from each group of our university's main stakeholder groups. This includes students, faculty and staff, and often alumni and community members, as well. While we require all members of the committee to undergo implicit bias training, we also must intentionally and purposefully increase diversity within those stakeholders. As we move forward, this will be a key priority for me and the entire president's cabinet.
Moving forward, intentional will be the watchword for search committee formation, among other things. In addition to selecting diverse stakeholders to serve on the committee, we are introducing a Diversity Advocates program to provide additional guidance and training for search committee members. Wisely choosing the people who will select new administrators, faculty and staff is a critical step in reshaping our university community.
Transparency
Sharing information, reporting data and engaging our community in our ongoing work have been exciting topics of conversation in my recent meetings with Interim Vice President and Chief Diversity Officer Stan Shingles.
It has been 10 years since CMU last had a strategic plan guiding diversity — yet diversity, equity and inclusion are the foundation of pathway two in our ongoing
Strategic Envisioning Process
. Interim Vice President Shingles is eager to see CMU develop a new plan, and I am eager to support his work, as well as the work of our strategic planning workgroup.
In addition, we must do more to communicate the ongoing efforts to improve diversity, equity and inclusion happening now at CMU. Again, I will use this blog to provide quarterly updates on our progress, and I will invite staff and faculty from across the university to provide updates on their work, as well.
Finally, we will make data, reports and other information easier to find on our website. We are engaging students and members of our university's digital strategy team to improve the ways we share information with students, faculty and staff.
Changing the paradigm
We must always be on the lookout for our blind spots. By nature, we view the world through the lens of our own experiences, and this often leaves us unaware of what we're missing. We are all learning to view the world with new eyes and with a greater appreciation for and understanding of the lives of others.
We must be willing to hold ourselves accountable for our mistakes and to learn from them, so we may do better the next time. Our process of listening, identifying and acknowledging challenges, seeking solutions, and making change is only just beginning.
This is going to be a long journey, and I am committed to walking this path alongside each of you. Together, we can create lasting change. Together, we will build an antiracist culture at CMU.
Blog:
Presidential Perspectives
posted | Last Modified: | Author:
by Bob Davies, CMU President
| Categories:
President's Office