Make a plan to vote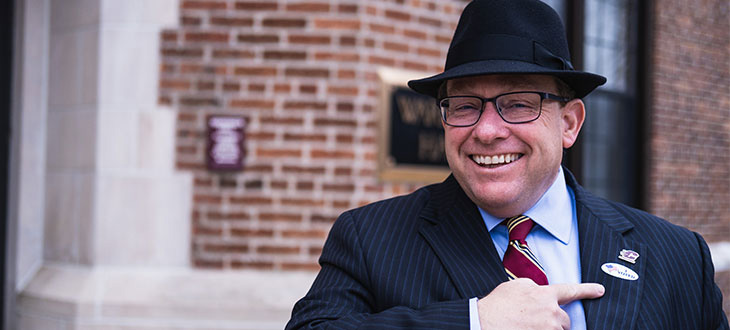 Earlier this year, I reflected on the final phrase in our university's mission statement:
responsible citizenship in a global society
. At Central Michigan University, we are committed to being leaders and changemakers in our communities. Every member of our university family — students, faculty, staff, alumni, supporters and friends — has an important role to play in creating the future we want to see at CMU, in Michigan and beyond.
The time has come again to put our mission of engaged citizenship into action — it is time to make a plan to vote in the November election.
Abraham Lincoln described our representative democracy during his speech at Gettysburg as, "the government of the people, by the people, for the people." At every level of government, our elected officials — our representatives – make decisions on our behalf regarding everything from the condition of our roads and the budgets for our school systems to our national defense and taxes. These individuals are selected by our votes, and they make decisions based on the will of their constituents as expressed through the ballot.
In other words, the laws and policies that shape our communities and determine many aspects of our daily lives are dependent upon our behavior at the ballot box. Yet, in the 2016 presidential election, approximately 40% of Americans who were eligible to vote did not complete a ballot. In the 2018 election, only about 35% of CMU students voted — a number consistent with the national average of voter participation among 18- to-24-year-olds.
Those figures represent millions of unheard voices — was yours among them? If you are passionate about the things happening in your community and your country, I challenge you to make sure your voice is heard this year and in every election year. I challenge you to vote, whether you are casting your first ballot or your fiftieth. Every voice — and every vote —matters.
Michigan residents can check their voter registration status by visiting the
Michigan Voter Information Center
. If your permanent address is in another state, visit the
National Association of Secretaries of State website
to be directed to information for your home state. On these pages, you can also find information about requesting an absentee ballot, locations for in-person voting, and much more. You can learn more about the candidates and issues on your ballot at
vote411.org
or
ballotready.org
, and you also can visit the Secretary of State website and the websites of individual candidates.
Active, responsible citizenship is the foundation of a healthy democracy, and voting is at the heart of engaged citizenship. The 2020 election is less than a month away — make your plan today.
Blog:
Presidential Perspectives
posted | Last Modified: | Author:
by Bob Davies, CMU President
| Categories:
President's Office