Creating a successful, sustainable future for our students and our state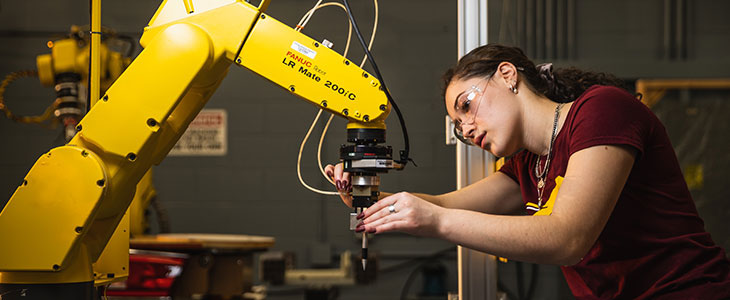 Earlier this month, Michigan Future Inc. released a report entitled, "The Relationship Between Education and Income: Separating Fact from Myth to Inform State Strategy." The report examines the relationship between educational attainment and annual income in Michigan, and the findings are consistent with what we have known for many years: Individuals who complete a bachelor's degree or higher tend to earn more than those who hold only a high school diploma.
For me, however, the most compelling part of this report wasn't the comparison of salaries, it was the consideration of what those salaries mean for workers and their families. In our state, there is a growing gap between the highest and lowest earners, and our middle class is shrinking. While the news is unsettling, there is a silver lining. Educational attainment could be a solution for both.
Bolstering Michigan's middle class
While there is a numeric element to defining the term "middle class," usually an income range of
roughly $40,000 to $120,000 for a family of three
, there also are concepts and themes we tend to associate with the idea of membership in the middle class. These include having sufficient income to purchase basic necessities, the stability of owning or renting a safe home, and, for families with children, the hope of empowering them to achieve their dreams. It evokes the ideas of comfort and security.
Unfortunately, as we examine employment statistics for our state, a disturbing pattern is emerging: Comfort and security may be moving out of reach for some Michigan families. Examining the
employment and wage data in this report
, 56% of Michigan jobs pay less than the national median salary of $39,810. And, right now, according to data compiled by United Way,
more than a third of Michigan families are struggling
to meet basic needs. We cannot allow that figure to increase.
Lower-paying jobs often have low, or even no, educational requirements, while the middle- and higher-paying jobs often require a bachelor's degree or higher. Job growth is happening in those higher-wage career fields. We need to ensure Michigan residents have the knowledge, skills and experience to fill those jobs. A CMU degree can open doors to successful careers and a comfortable lifestyle.
Offset economic volatility
Educational attainment does not only correlate with earning higher wages, it also provides a buffer against economic uncertainty. As we saw throughout the COVID-19 pandemic, individuals holding a bachelor's degree or higher
experienced unemployment at lower rates
than those who held a high school diploma or less. In many cases, college graduates also are recovering from the pandemic more successfully.
Discussion of a possible
K-shaped recovery
coming out of the COVID-19 pandemic began late last year. So far this year, those predictions seem on point: As data in this
Bridge Michigan article
demonstrates, "Michigan's employment is now a tale of two economies," and individuals in higher-paying jobs have rebounded more quickly than lower-wage earners.
In many cases, there is a clear differentiator between those who recovered quickly and those who have not: a bachelor's degree.
At CMU, we are committed to putting a degree within reach for students at every stage of their educational and career journey, whether they are recent high school graduates or working adults interested in beginning or completing a degree program.
Why this matters for Michigan
Since the 2007-09 Great Recession, Michigan has been on the road to economic recovery. Business leaders, community activists, politicians and others have outlined multiyear plans to reclaim our state's economic greatness — they all mention education as a key component for success.
Increasing the number of higher-wage jobs in Michigan depends, in part, on our ability to attract and retain businesses. And almost nothing is as tantalizing for employers as an educated, skilled workforce. As a regional public university committed to creating a sustainable, successful future for our students, their families and communities statewide, we strongly support Michigan's goal to
increase educational attainment by 2030
.
Investing now in our greatest resource — the people of Michigan — means ensuring access to a high-quality education beyond a high school diploma. We are doing all we can to keep CMU affordable for students and families, including increasing the number and value of scholarships and extending need-based aid for all four years of a student's degree journey. We need additional investment from our alumni, supporters and state leaders to keep educational attainment within reach for every interested student.
Blog:
Presidential Perspectives
posted | Last Modified: | Author:
by Bob Davies, CMU President
| Categories:
President's Office