Academic Advising
We're here to help you, every step of the way.
Your assigned advisor

Personalized advising is offered to all students based on the type of support you need.
Your academic advisor is assigned to you based on your intended major or interest area. Academic advisors are all housed within one of the following academic areas:
Schedule Advisor Appointment
Exploring and declaring a major
You can continue to learn more about majors by scheduling with an academic advisor in any of the seven areas above or begin your advising journey within the College of Liberal Arts and Social Sciences. Once you find the best fit, your academic advisor will explain how to officially declare your major.
Find more resources on major and career exploration.
Majors and minors
We have approximately 200 programs to help you discover your future. Start by learning more about majors and minors that interest you.
Then, schedule with an academic advisor in that area to get answers to your questions.
Learn More About Majors and Minors
Career Development Center
The Career Development Center staff will help you discuss turning your major and degree into a career. Reach out to get hep polishing your interview skills and building a resume and cover letter to make sure you are competitive for internships and careers.
Connect with Career Development Center
Bureau of Labor Statistics Occupational Outlook Handbook
Use the Occupational Outlook Handbook to browse careers and find information and projected growth, degree requirements, career outlook, salaries, and more!
Explore Occupational Outlook Handbook
When do I see my academic advisor and what should I ask?
When do I see my academic advisor?
• At least once a semester to choose classes toward the next semester
• Before adding/dropping/or withdrawing from classes
• If you need support with your academic performance on areas like improving study strategies, learning styles, or time management
• If you need help with getting organized, goal setting or accountability
• If you will be taking classes over the summer at another institution
• If you have questions about majors, program requirements, graduation, program review, CMU info, etc.
What types of questions do I ask my academic advisor?
Who can...
• help me with study skills, time management, goal setting, and test-taking methods?
• help me understand and/or build My Academic Plan (MAP) in Degree Progress?
• make sure I am taking the classes I need for my program, graduation, etc.?
• assist me with math, writing, and/or science skills?
How do I...
• choose, declare or change my major?
• register, repeat, drop or withdraw from a course?
• calculate and/or raise my GPA?
• know when I have fulfilled the requirements for graduation?
• get a tutor or extra help with my classes?
Where do I...
• take a placement test?
• get accommodations for a class?
• find course transfer equivalencies?
• find my course registration date and time?
What is...
• the difference between dropping and withdrawing from a class?
• the deadline for withdrawing from a class?
• the meaning of probation or dismissal?
New or future students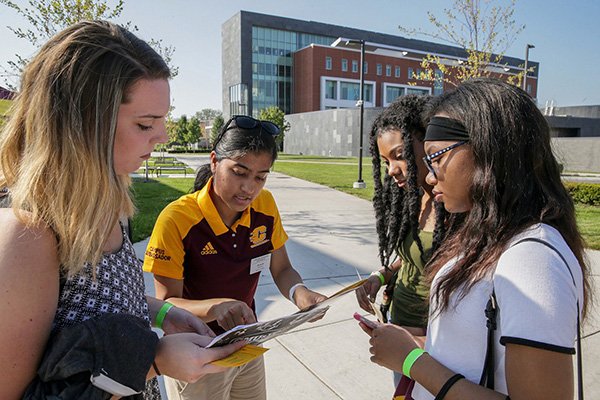 New students
If you are new to CMU, visit the New Student Orientation website to learn about your next steps.
If you have questions about your advisor, contact us at 989-774-7506 or at advising@cmich.edu.
Future students
If you are interested in making CMU your home but have questions about academic programs, please contact us at 989-774-7506.