Pow wow
CMU's 34th Annual "Celebrating Life" Pow wow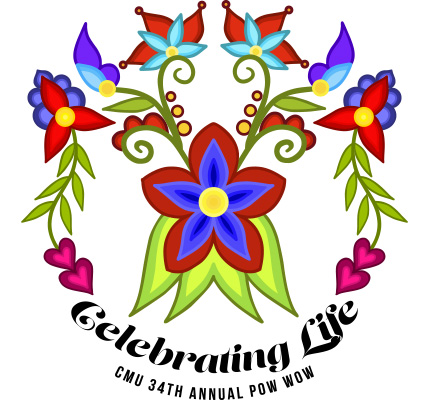 One of the best ways to experience Native American culture is at a Pow wow. Pow wows are the Native American people's way of coming together to dance, sing, visit, share handmade crafts, make new friendships, and renew old ones.
Dancing and singing have been a very important part of Native American culture. As various tribes came together, they would share songs and dances with one another. Many songs today are sung in "vocables" with no words although there are still newly composed or revivals of old songs that are sung in Native American Languages. "Vocables" were used to replace the words of old songs so that singers from different tribes could join. The songs heard at a Pow wow are reminders to indigenous people of their traditional ways and rich heritage and still hold special meaning.
This year's Annual "Celebrating Life" Pow wow
March 18 and 19, 2023
John G. Kulhavi Events Center | McGuirk Arena
Join us for a cultural experience of singing, dance, arts & crafts, and food!
Grand entries
Saturday 3/18 at 1:00 pm and 7:00 pm
Sunday 3/19 at 12:00 pm
Doors open at 11:00 a.m.

Master of ceremonies
Host drum
Most dances seen at Pow wows today are social dances that might have had different meanings in earlier days. Although dance styles and content have changed, their meaning and importance have not. The outfits or regalia worn by the dancers, like the styles of clothing today, evolve over time. It is not a stagnant culture, but a vibrant and changing way of life.
Source: www.powwows.com
CMU Pow wow celebrates Native American tradition