Campus Pride Index
The Campus Pride Index (CPI) is a national benchmarking tool used to assist campuses with improving safety and inclusivity for the LGBTQIA+ community on campus. The Campus Pride Index showcases campus participation and active interest in LGBTQIA+ issues as well as an ongoing commitment to the LGBTQIA+ community and allies.
The pride index scores determine where Central Michigan University ranks nationally in terms of safety and inclusion for LGBTQIA+ students, faculty, and staff. The index also highlights opportunities for improvements to the campus culture.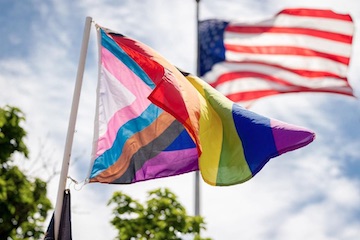 CMU's Campus Pride Index
Why does this matter to CMU's campus
This Campus Pride Index matters because it provides a resource to better understand policies, programs, and practices that impact and improve the quality of life for LGBTQIA+ people on campus. Campus Pride works with campuses to conduct climate research around the LGBTQIA+ experience of students, faculty and staff. A safer and more inclusive campus is a better campus for all. The Office for Institutional Diversity, Equity, and Inclusion registered CMU on the Campus Pride Index to better show how the university serves the LGBTQIA+ community. Not only is this a tool for our collective work in this area, but also for students, faculty, and staff to see what areas of support CMU offers for the community. It is a chance for CMU to be proud of the work it has done to elevate a campus culture of belonging.
Next steps for implementation
The benefit of the Campus Pride Index is that it helps assess inclusivity using benchmarks that guide us as an institution, while showing the university where it stands compared to other state institutions. Assessment was the first step. Future plans include facilitating dialogue on identified gaps, work toward closing those gaps, and follow up with Campus Pride to assess progress. This is not a "one-and-done" endeavor. The Office for Institutional Diversity, Equity and Inclusion will use the CPI to work collaboratively with campus partners on areas specific to the needs of the LGBTQIA+ community both on campus, and within the Great Lakes Bay Region.