Todd J. Anson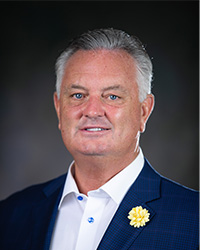 Lawyer and Entrepreneur
Email: anson1tj@cmich.edu
Term Expires: December 31, 2026
Board Committees:
Enterprise Risk Committee (chair)
Trustees-Faculty Liaison Committee
Todd J. Anson was appointed to the Board of Trustees by Governor Rick Snyder in October 2018 for an eight-year term expiring December 31, 2026. He is a lawyer and entrepreneur who serves as a managing member of One Pacific Sports. He co-founded real estate development company Cisterra Partners and is a past recipient of E&Y's "Entrepreneur of the Year" award and NAIOP's "Developer of the Year" in San Diego as well as a former Managing Partner at California's second-largest law firm. Additionally, Mr. Anson taught at the University of California at Berkeley's Haas School of Business in its MBA program as a member of its adjunct faculty from 1985 to 1990. He is a venture investor and has served on numerous corporate boards including Armor Express, LEGO A/S, Coronado First Bank, the San Diego Regional YMCA and currently is a director of Grand Rapids-based UV Angel. He was a founding investor in the six-team independent minor league Golden Baseball League and has a deep interest in the business side of sports. He holds a bachelor's degree in mathematics from CMU, which recognized him in 2005 as a Distinguished Alumni of its School of Science & Engineering, and a law degree from the University of Michigan. Mr. Anson and his wife Terri live in Charlevoix, Michigan.